In this module, you will be shown the steps necessary for troubleshooting equipment and handling other problems at your events. You will also learn what an event with Spark looks like from start to finish. Everything from accepting an event, contacting your clients, traveling to an event, performing an event, wrapping up your event, and so much more. Listen to the videos closely and read the information provided in detail. Look back on the previous modules if needed!
PerFORMING AN EVENT WITH SPARK FROM START TO FINISH
TALKING POINTS:
Gathering information
Traveling to your event
Executing your event
Wrapping up your event
Accepting an event
Your planning meeting
Following up
Preparing for your event
This breakdown is packed with information you will need to know. Everything from accepting your event to wrapping up your event will be covered here. If you ever have a question about how your event process works, please refer to this information sheet. Pay close attention to the detail here; this process will be exceedingly important to know throughout your carrier at Spark Events.
#ProTip: Save this image to your phone or computer so that you can reference it as a guide.
SPARKLANCER PROCESS:
1. Sparklancer is assigned the event immediately after client booking - We will give the invitation to accept the event upon client booking the event.
a. Operations Director will notify via email and phone call - Office staff will be sending Sparklancer a notification of the offered event via email and phone call. You will receive this invitation- urging you to accept the event.
b. Sparklancer is locked into event upon confirmation - After being contact by the Operations Director the Sparklancer is responsible to logon to DJEP software and confirm the event.
2. Sparklancer makes planning phone call 30 days out from event. - At 30 days out from event, you will receive a notification informing you that it is time to make your planning phone call with client. If you have been with Spark for a while, this is replacing the planning meeting. When you make the planning call, you will go over the clients planning forms and ask them any questions you may have about their event. You will make your planning calls on the time designated to you.
DJ & MC: Monday, 4 weeks before event
Photography: Tuesday, 4 weeks before event
Cinematography: Tuesday, 4 weeks before event
It is your responsibility to make these calls to the client on these times. Check your clients planning forms in order to determine what time of the day they would like for you to call (e.g. morning, afternoon, evening).
a. Sparklancer fills out meeting reflection form online, immediately after phone call. - After finishing your planning call, you must fill out the post-meeting reflection form. It will only take a few minutes, but it's a necessity for the client and the office team.
3. Sparklancer prepares for event - During this time, you will prepare any documents needed for the event, print off planning forms, print the event schedule, and pick up/check out any equipment that you will need to perform the event. Use the proper checkout system (listed in Module 1) when checking out Spark equipment to use for your event.
4. Your event day! - This is the day you will be performing your service at your client's event.
a. Sparklancer fills out post-event form online, immediately after the event. - After finishing your event, you must fill out the post-event form. It will only take a few minutes, but it's a necessity for the client and the office team.
b. Sparklancer drops off equipment/media - At this point, your event has been performed and you are now ready to drop off/check in your equipment that you rented from Spark for your event. Use the proper check-in system (listed in Module 1) when checking in Spark equipment used at your event.
You will also drop off any media that needs to be dropped off at this time. This would include any photos or videos that were taken at the event (if you're a photographer or a cinematographer).
Equipment and media must be dropped off/checked in the first business day after your event. If equipment and media is not brought back at this time, you may be charged a late fee. If equipment is ever double booked over a weekend, you will be notified and most likely expected to return the equipment following the conclusion of your event.
5. Payday for Sparklancer! - That's it! Now it is time for you to get paid! If you followed all these steps, you should have had an outstanding event, and the only thing left is for you to get paid! Refer to Understanding Your Pay from Module 1 if you have questions regarding pay.
CLIENT PROCESS:
Take a moment to read through the client process. This is a step-by-step graphic that our clients reference in order to know the process they will go through for an event. Know this process by heart so that if your clients have a question about this process, you will be able to answer it correctly.
1. Purchases Spark Services
2. Receive order confirmation and login information within 24 hrs of purchase.
3. Login and Fill out your planning forms
4. Receive planning call 30 days out.
5. Your event day!
6. Receive your deliverables.
Cinema - Receive Video 4 weeks after event date.
Photo - Receive Photo's 4 weeks after client approves photos
Event Etiquettes
Talking Points:
Performing a black/white tie event
What's considered casual?
Dressing options
Levels of attire
Click through these slides and read up on how Spark expects you to present yourself while at an event. Before your event, check your planning forms to ensure you are prepared to dress the way the client has requested. When a client books with us, they are able to pick from a few different options. The choices on those options will determine what you need to wear and how you need to dress at your event. Look over these slides carefully and understand everything that goes into each different event attire—especially the higher levels of dress code!
Man's Guide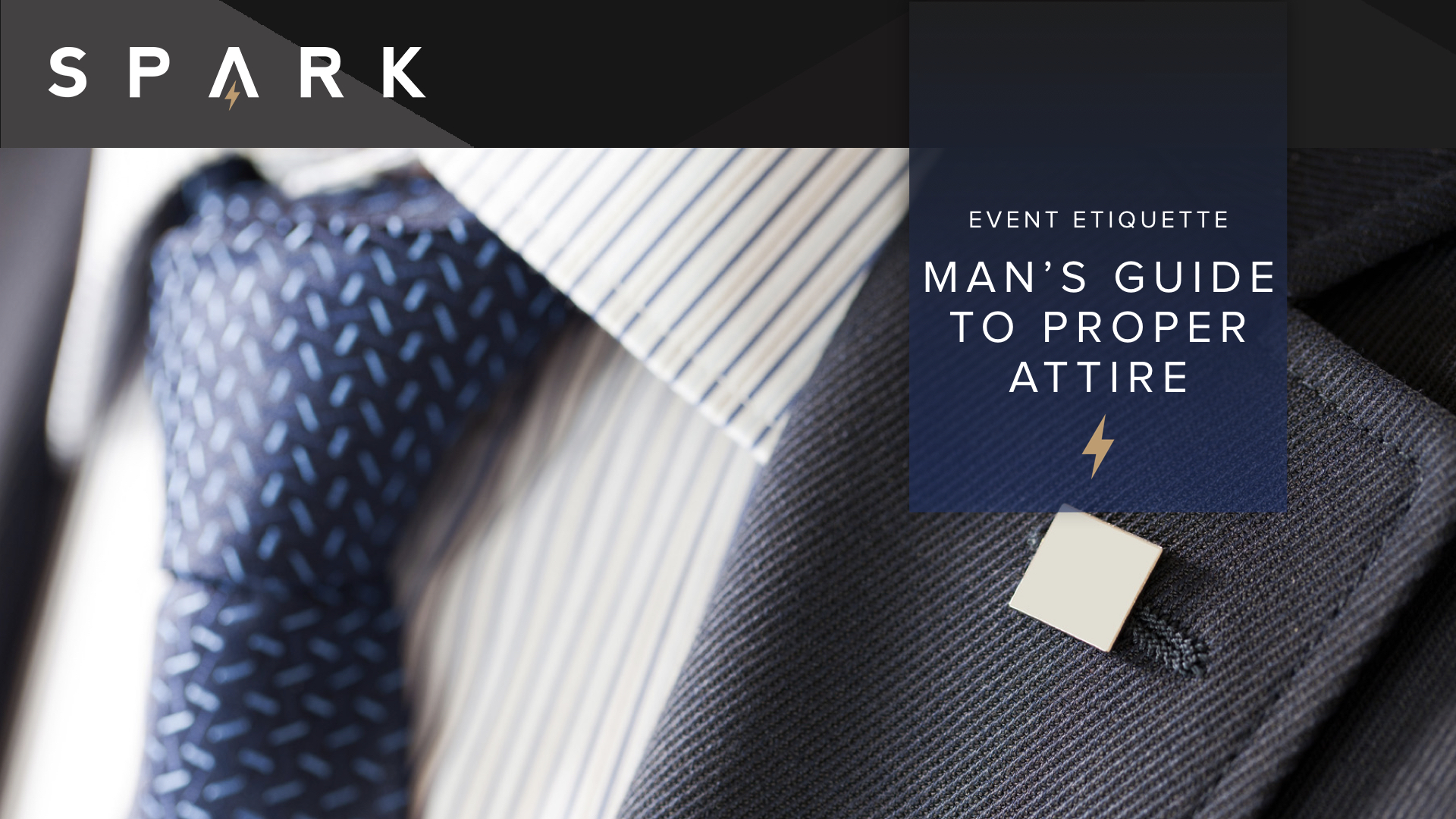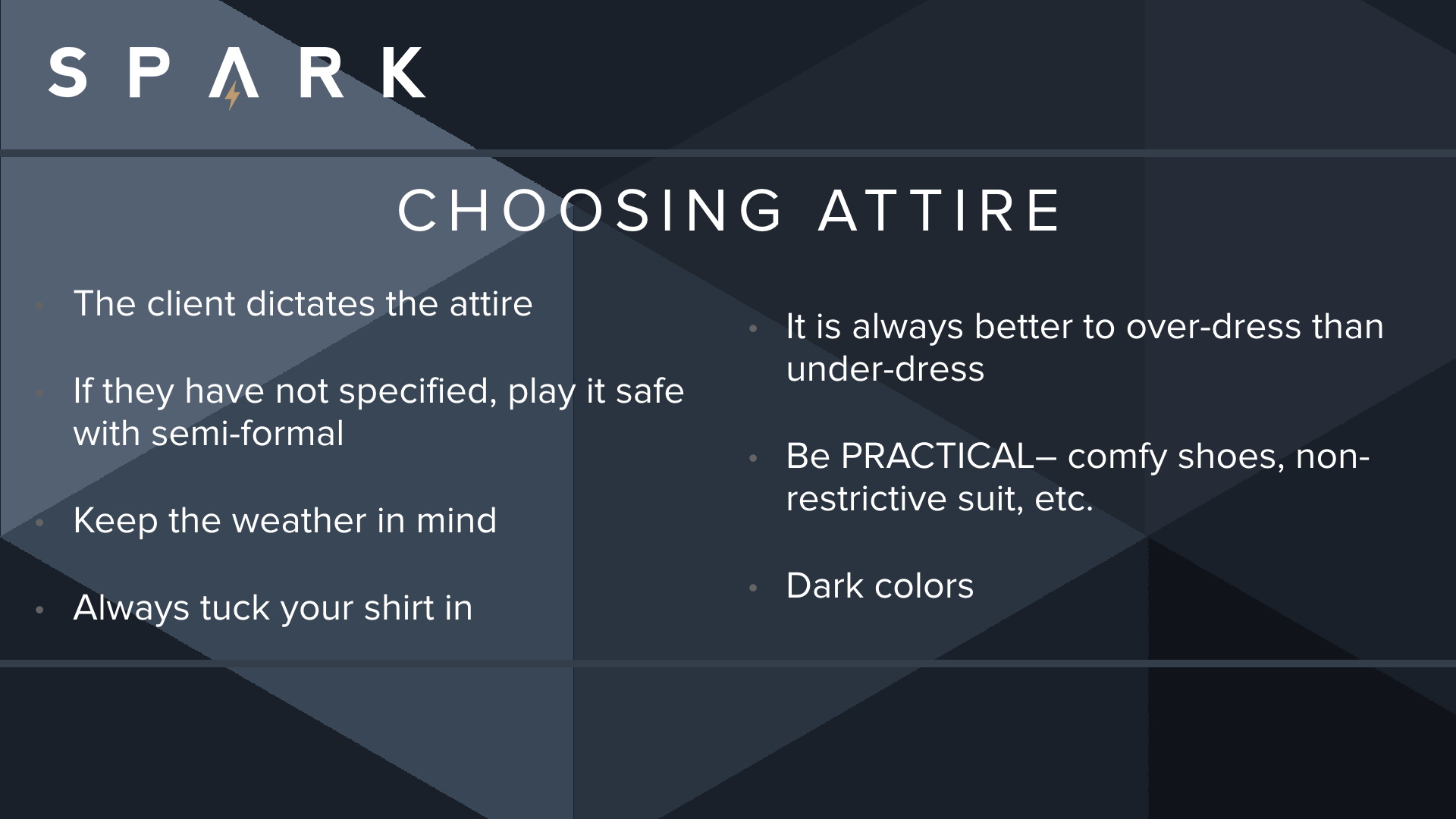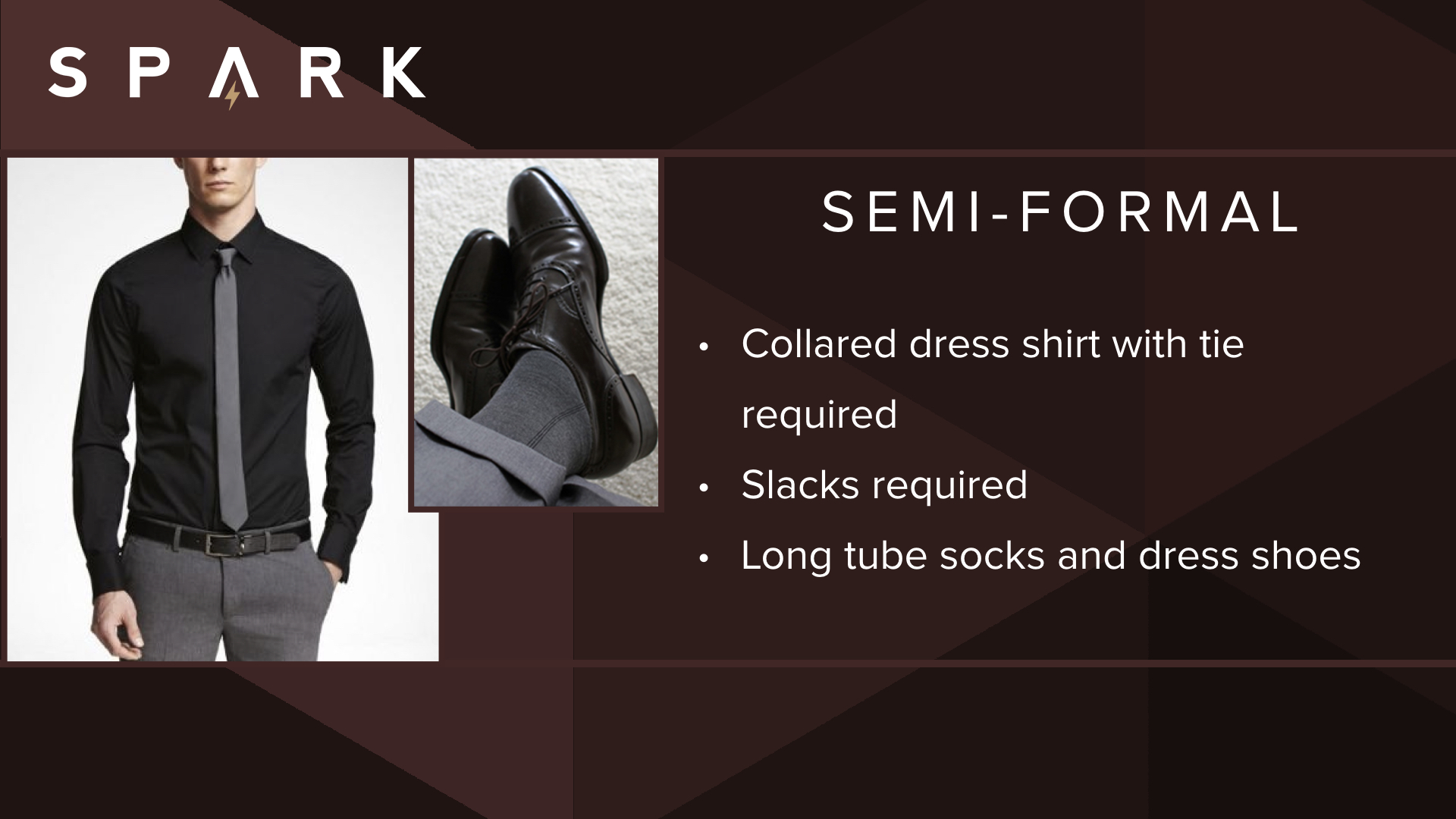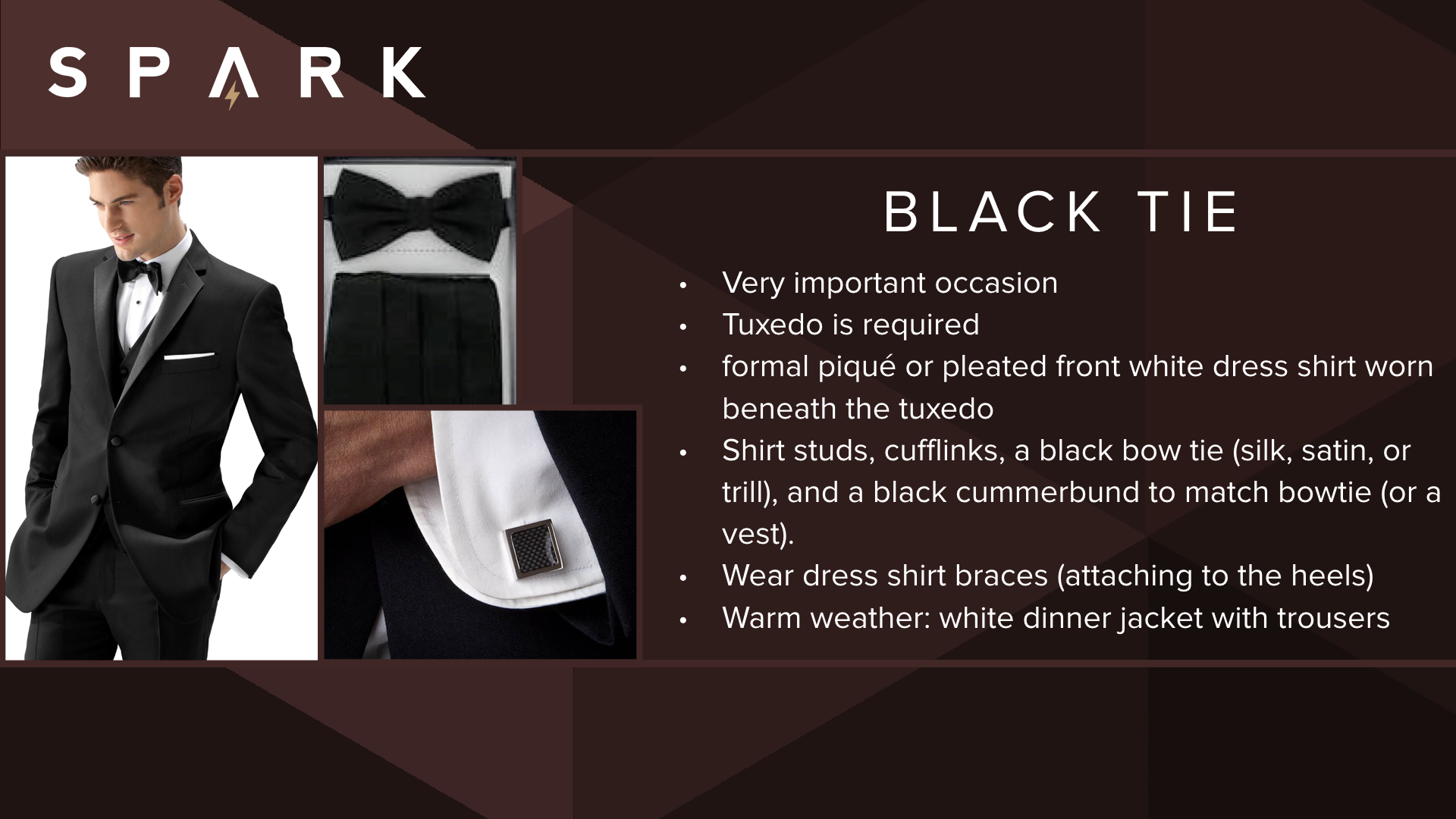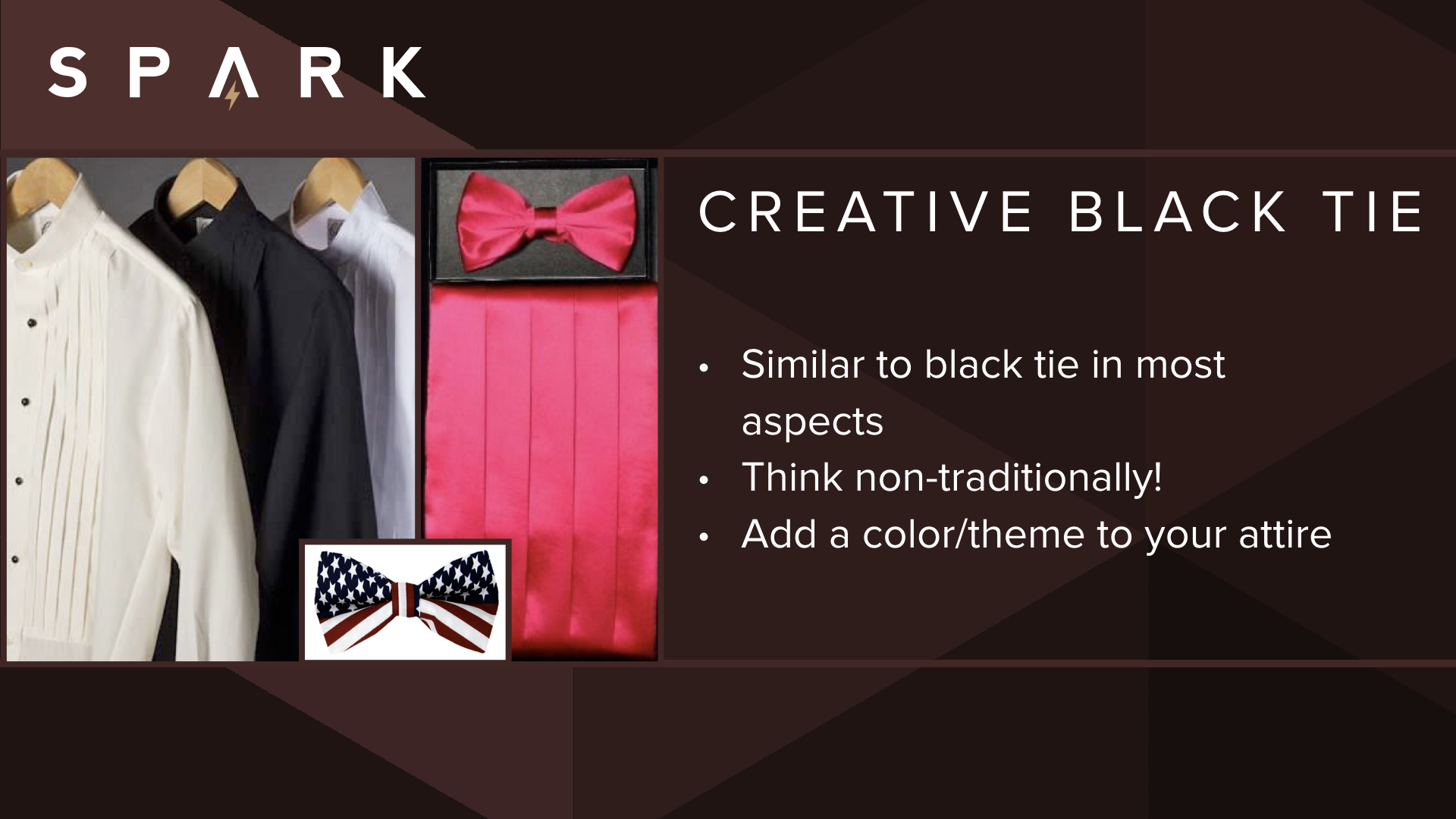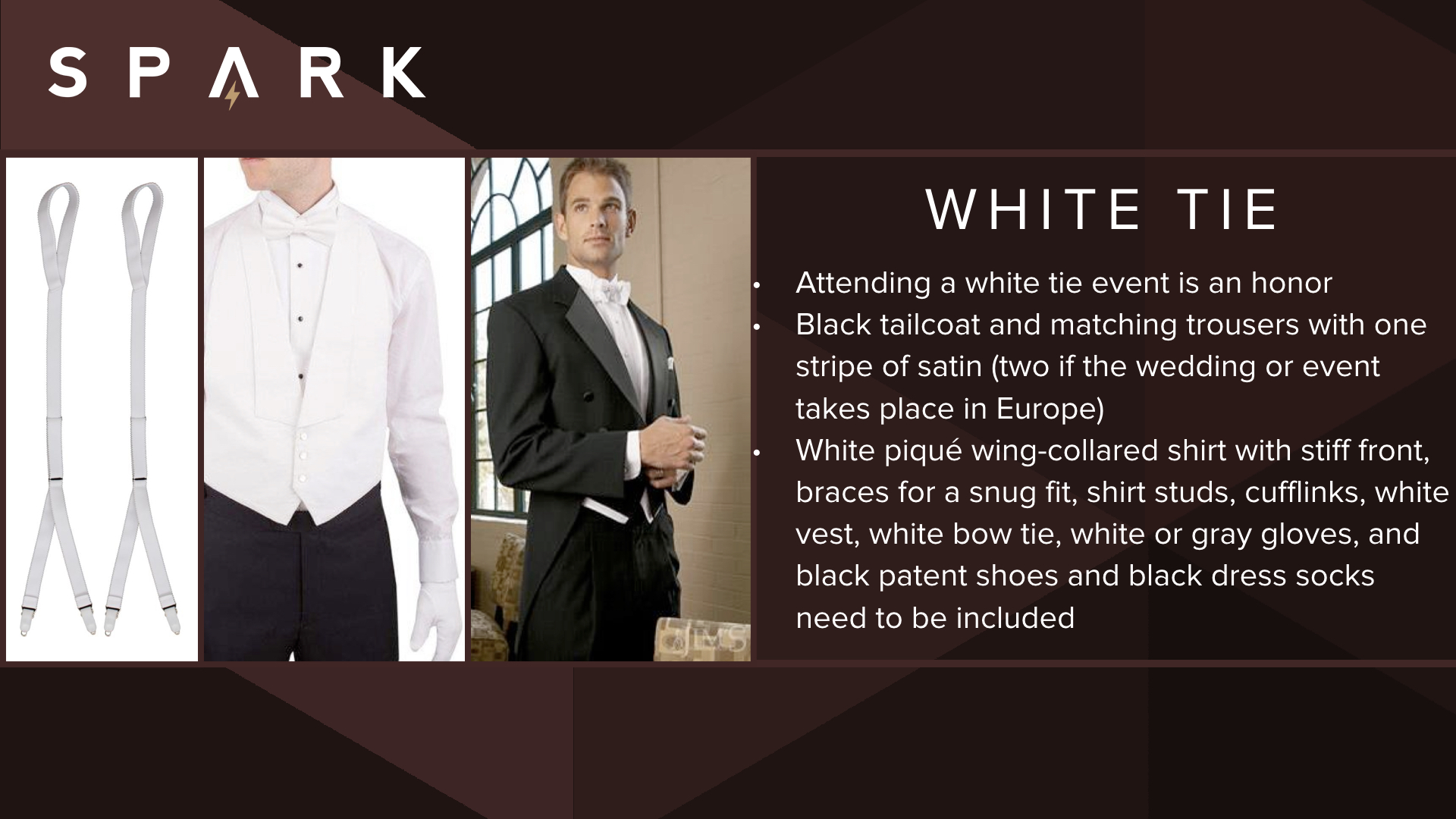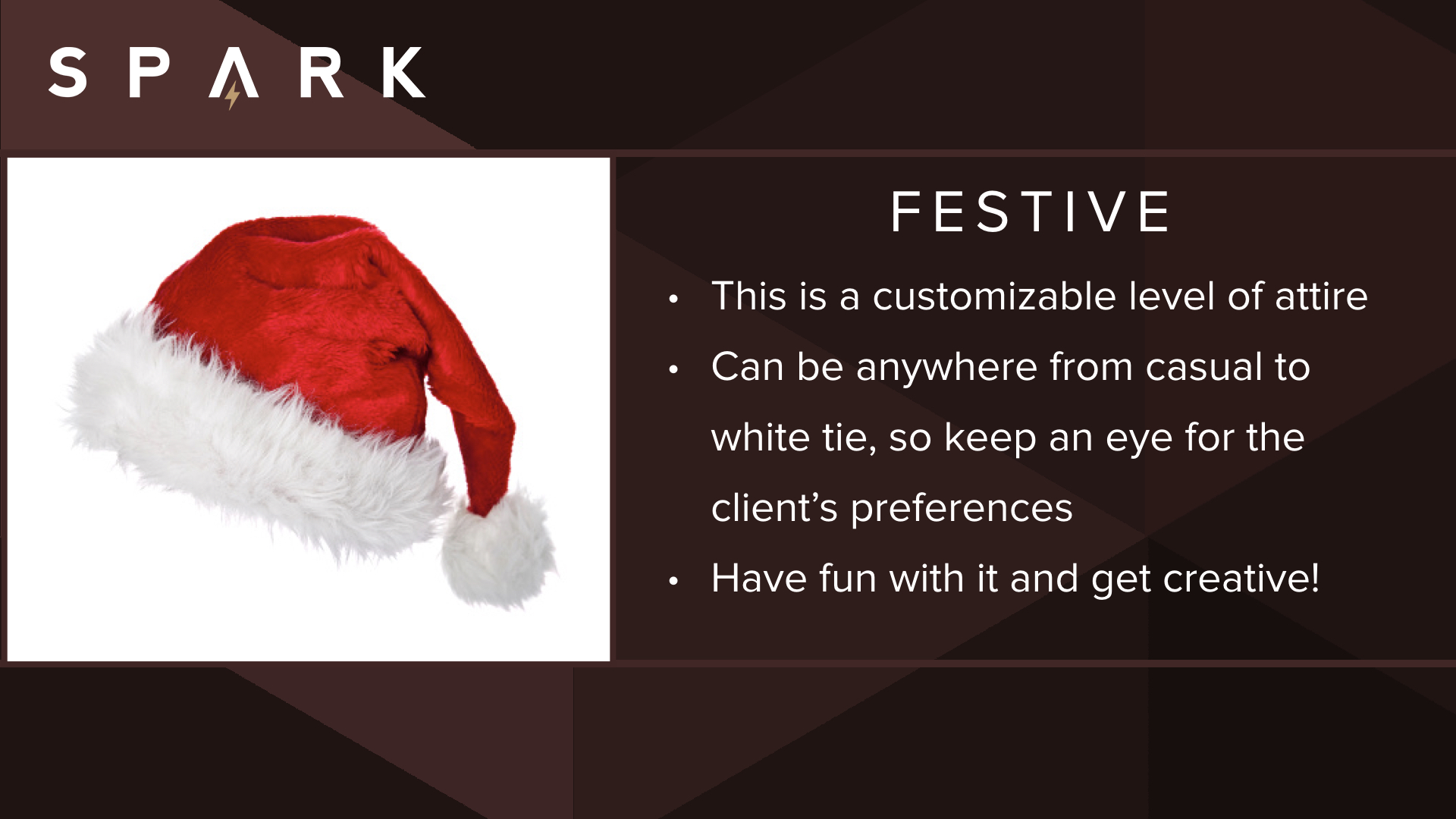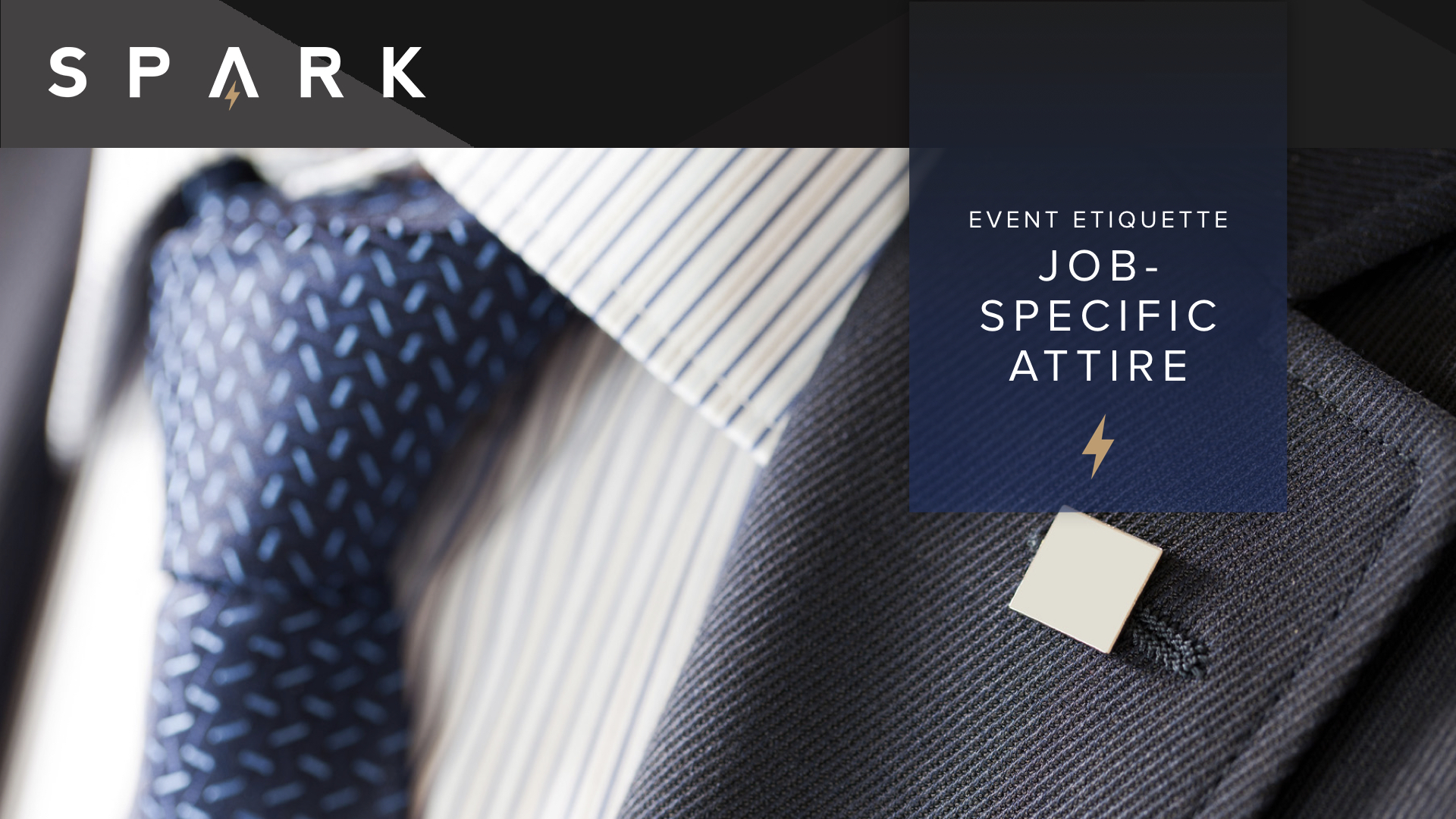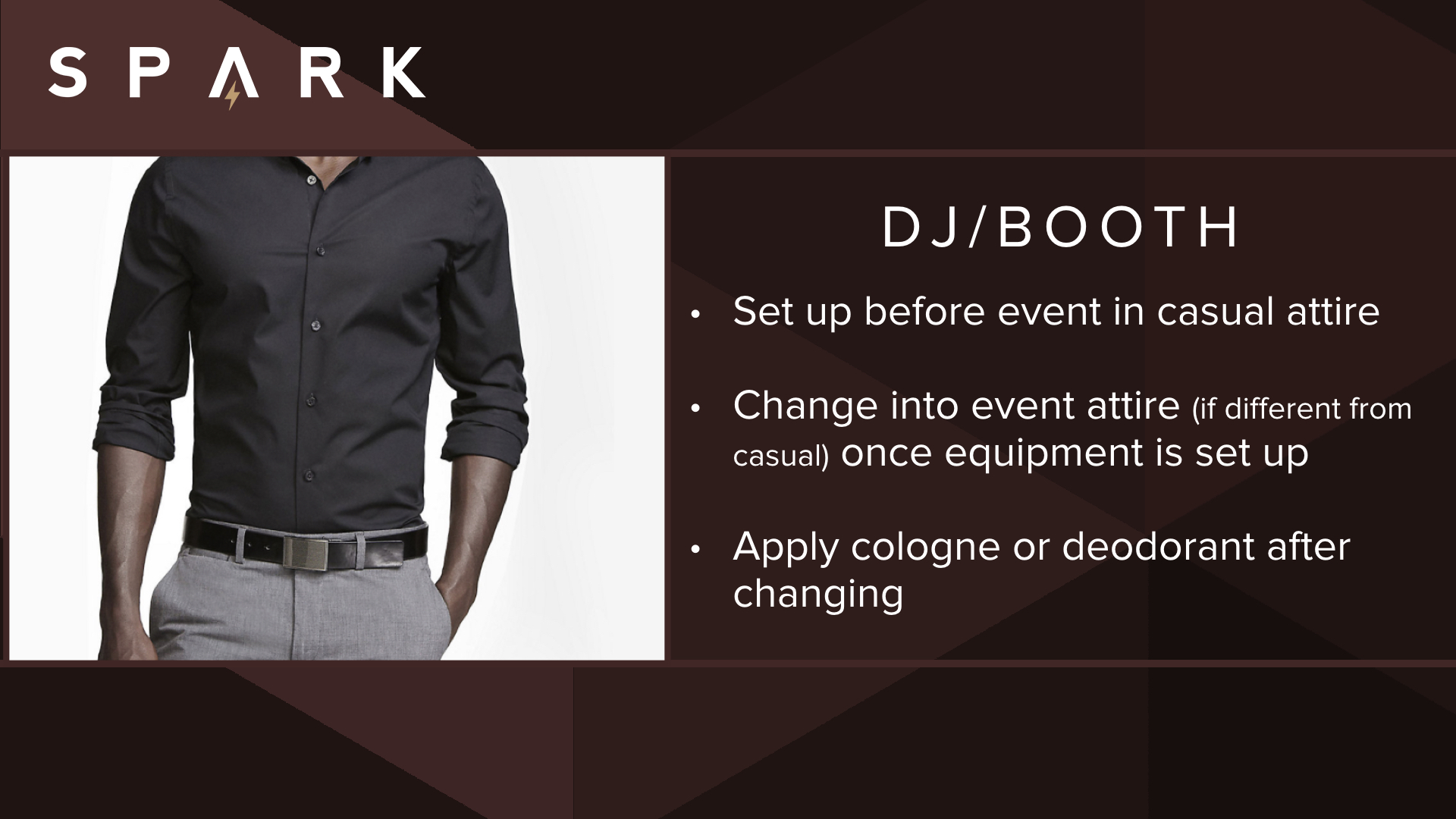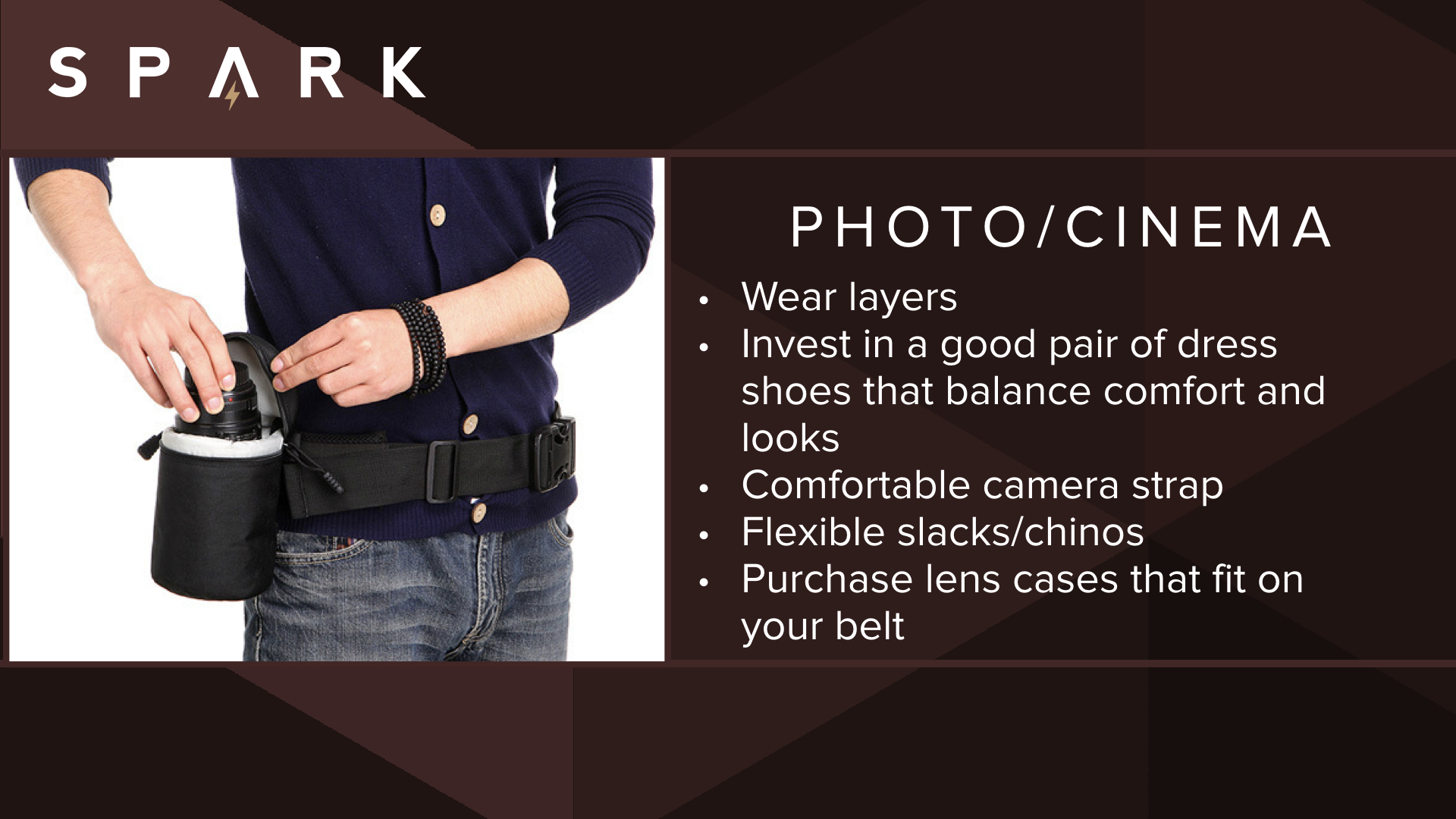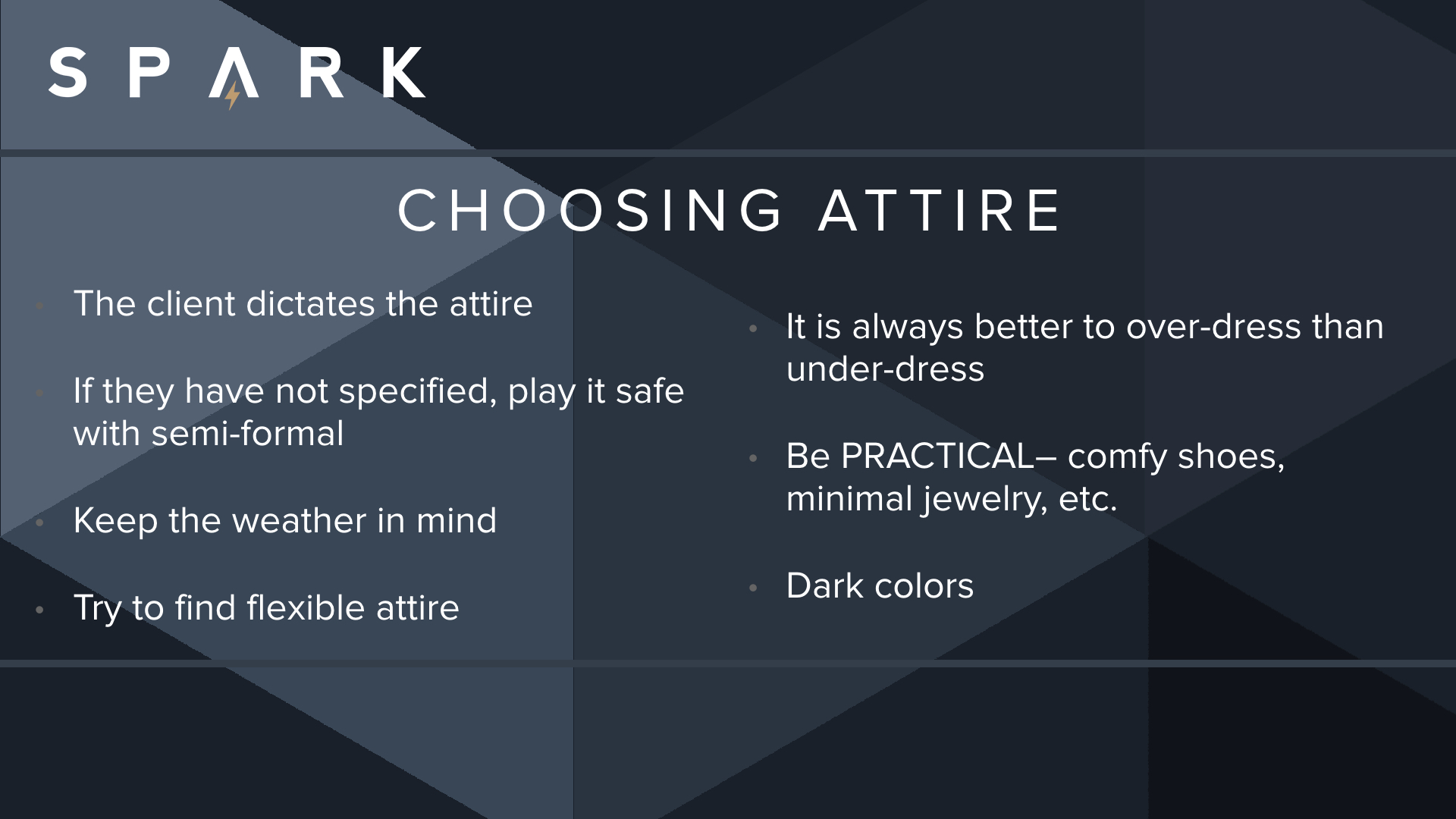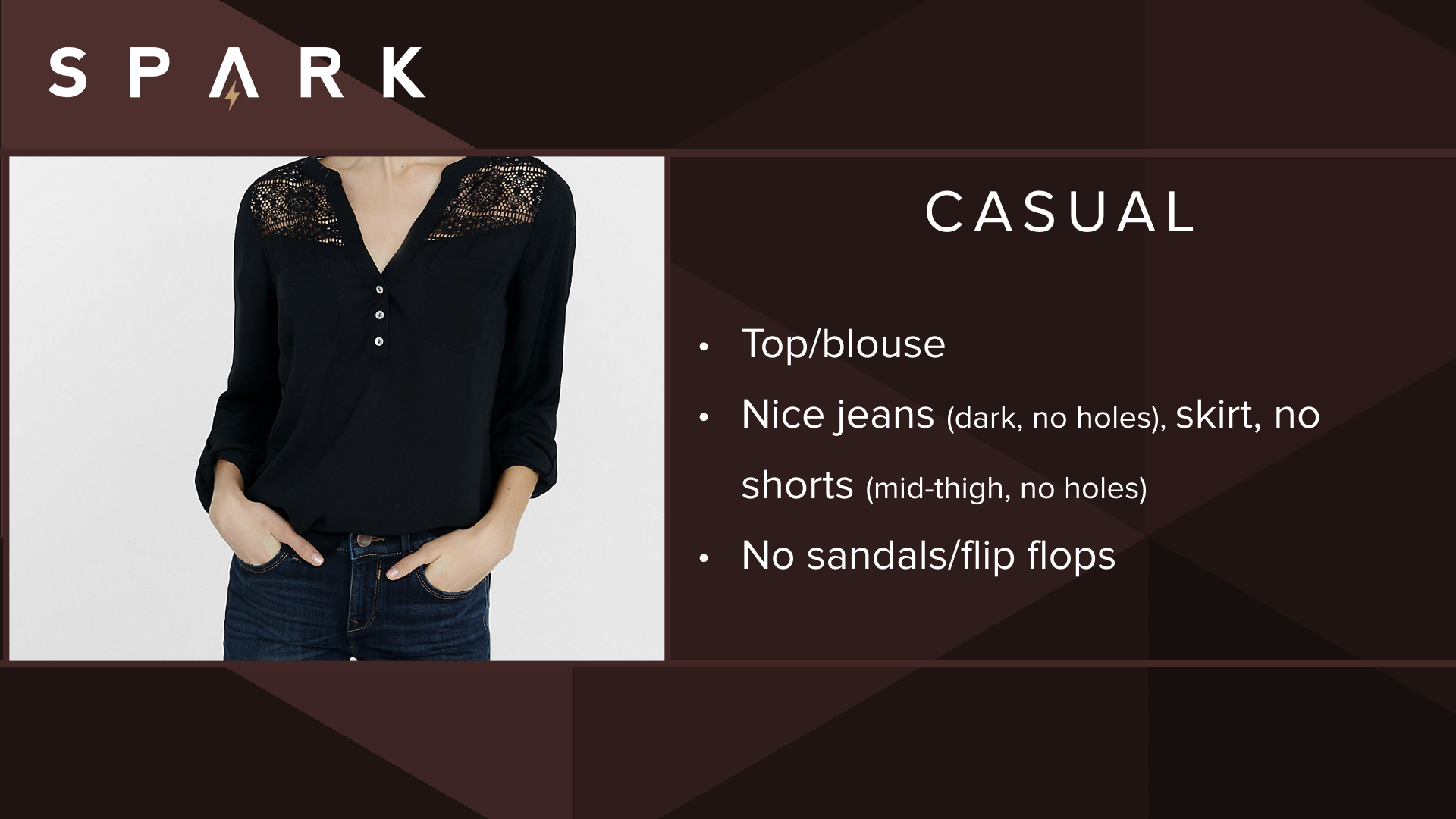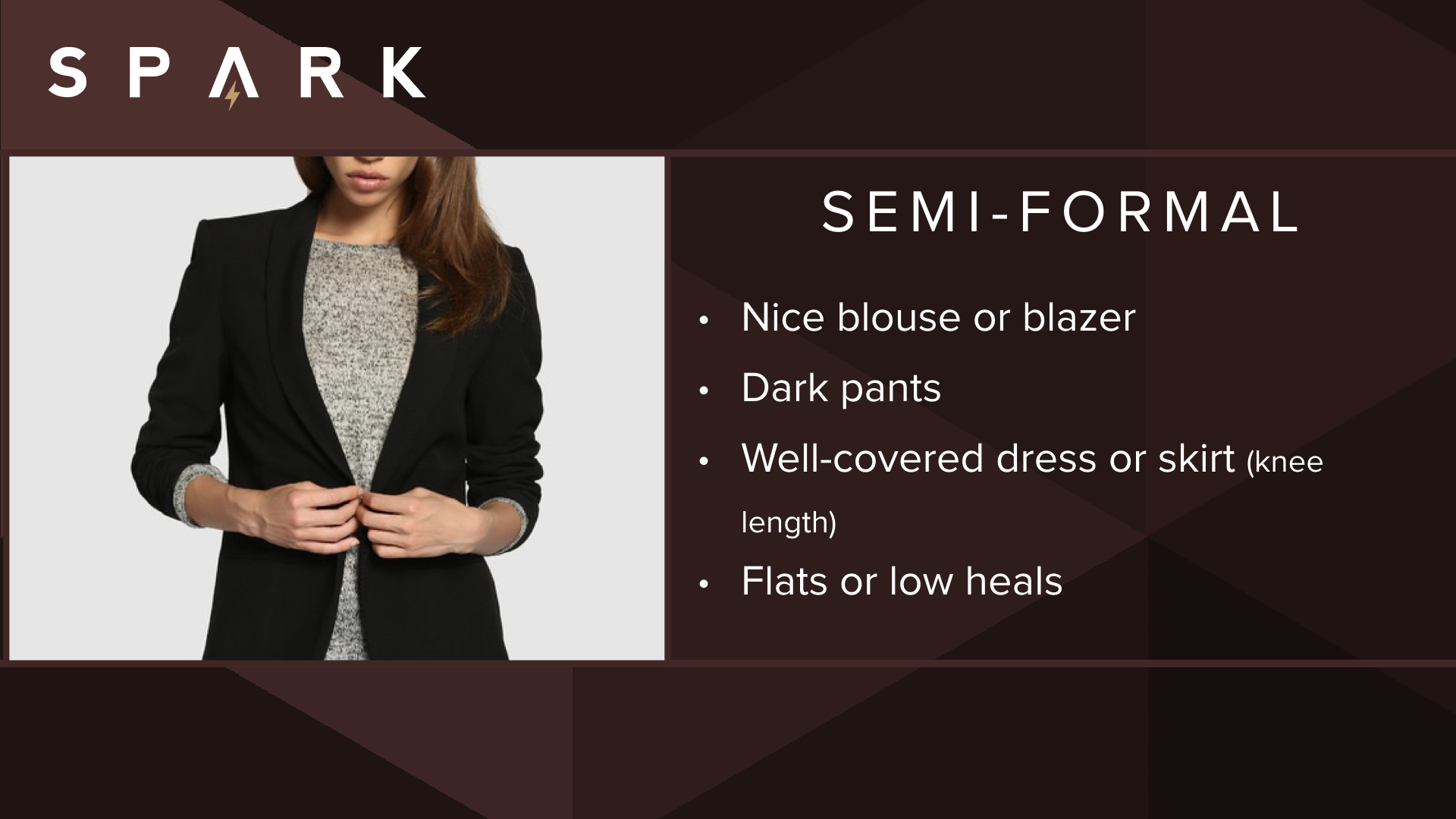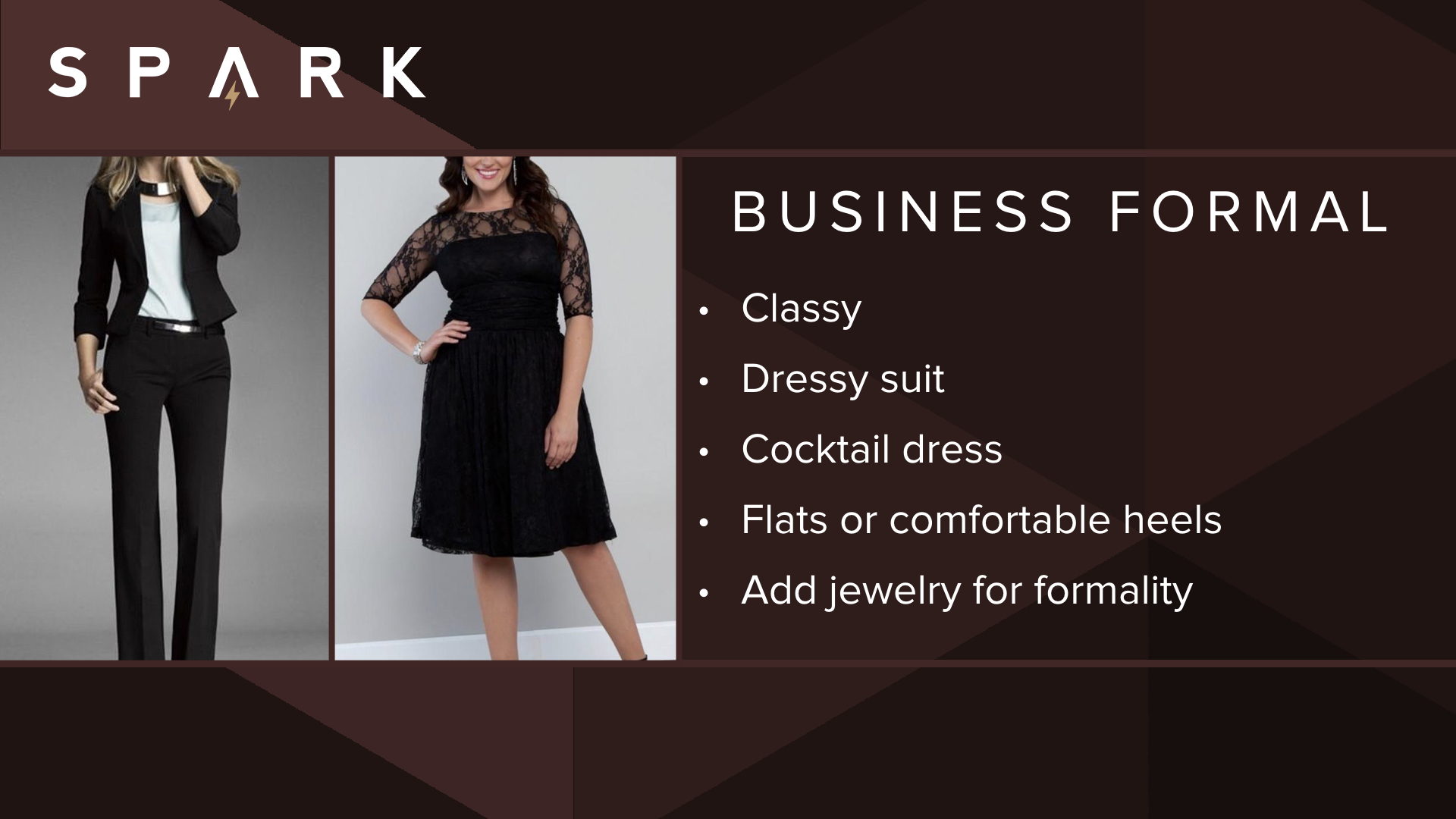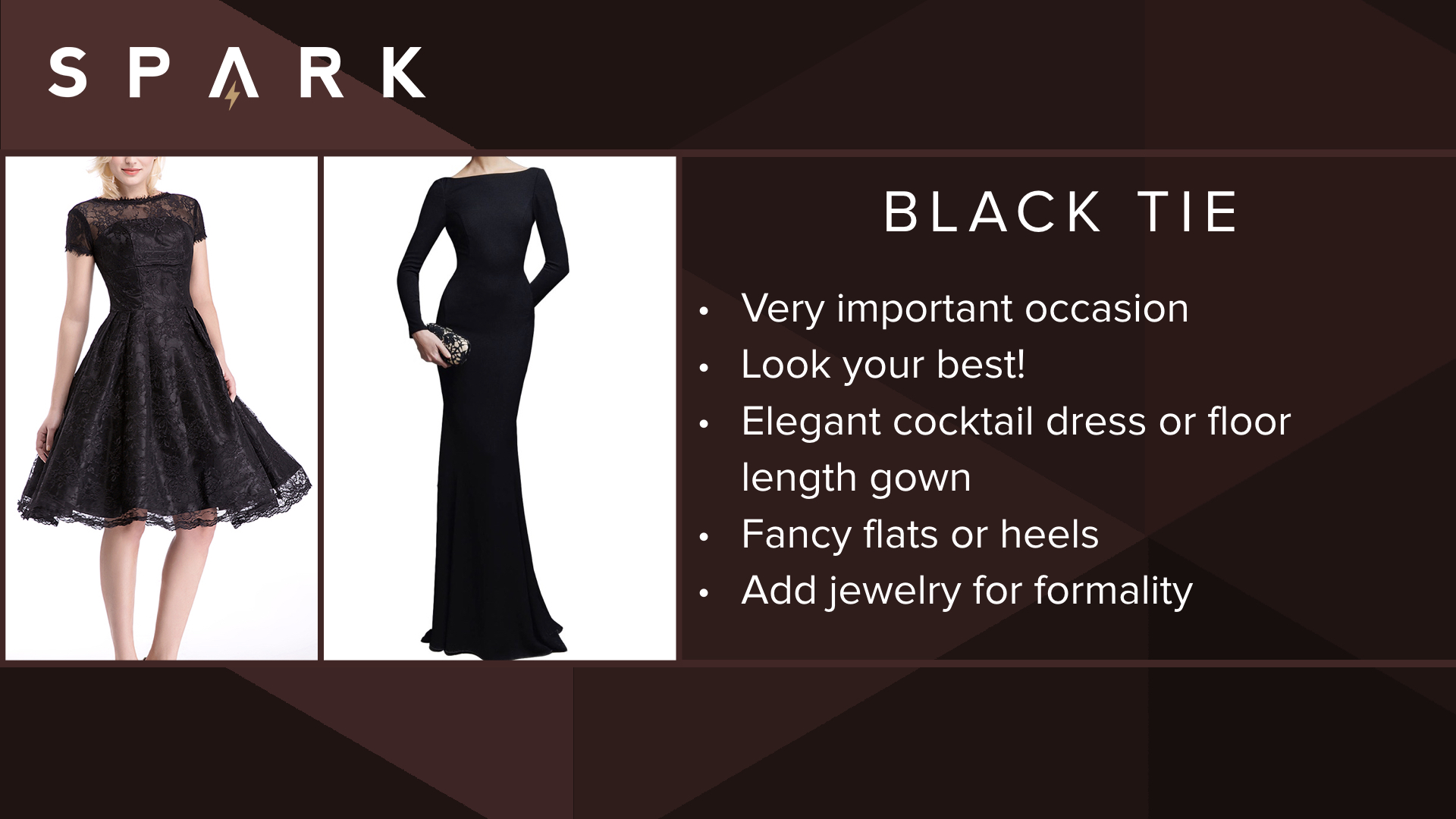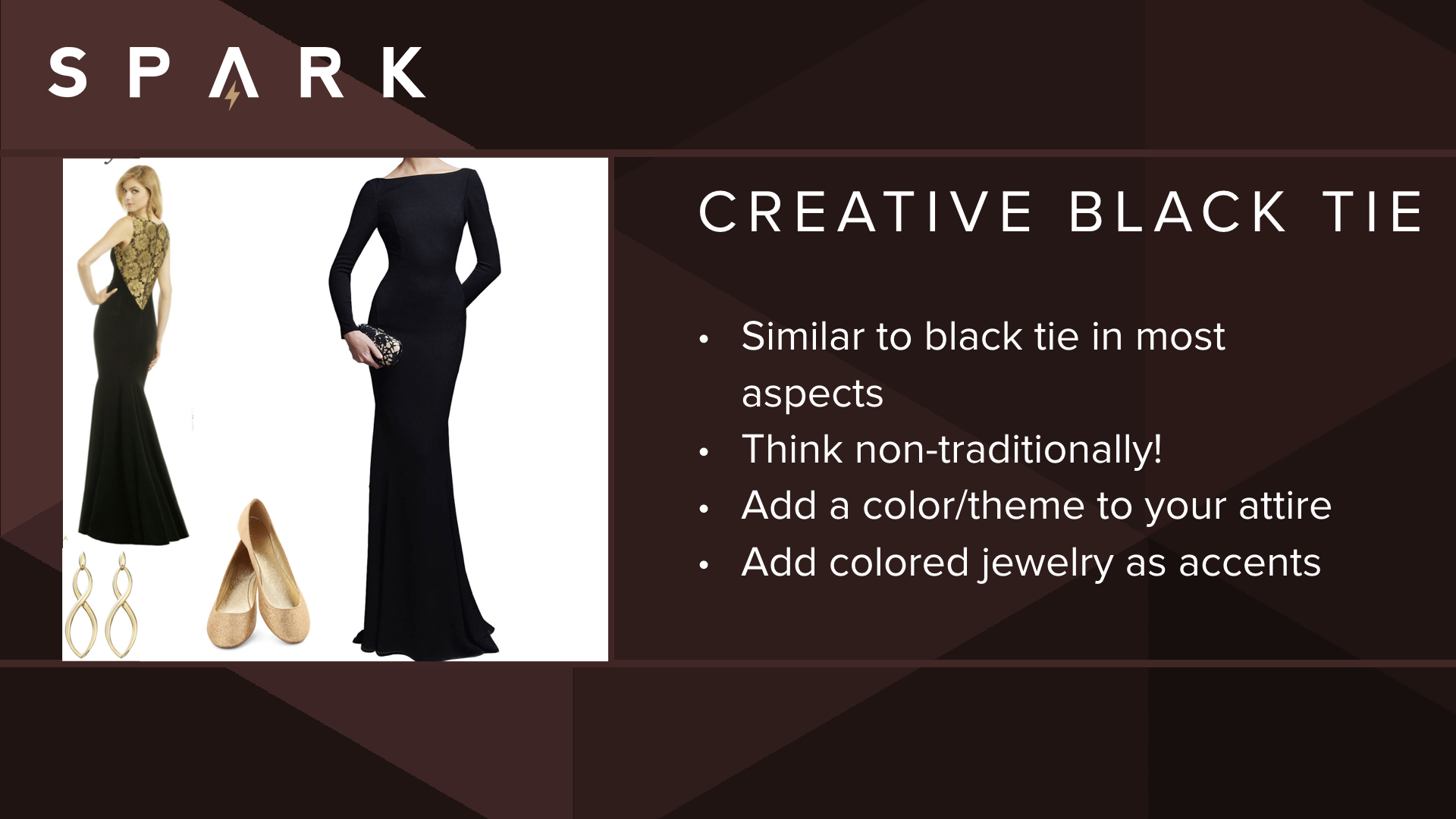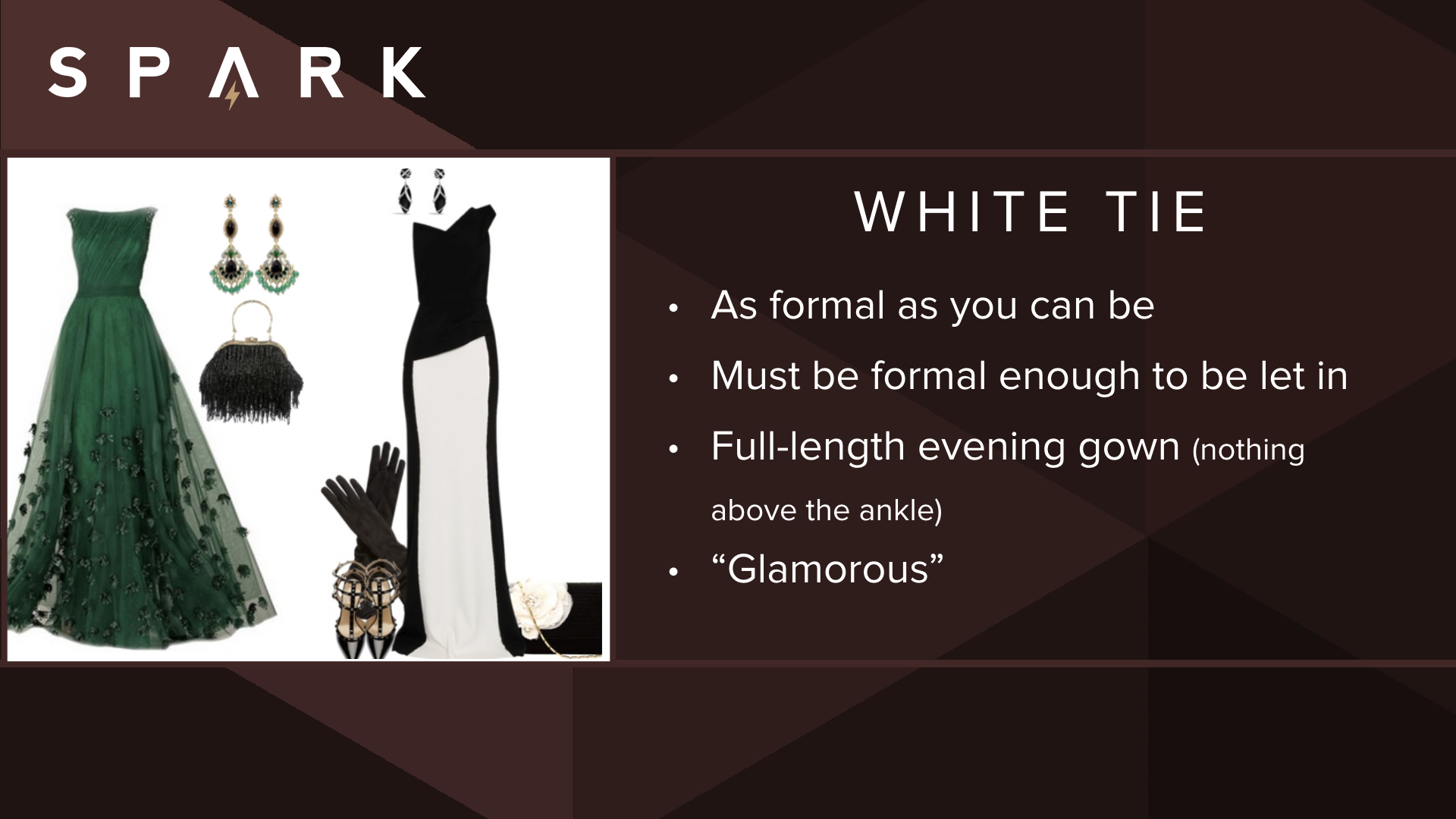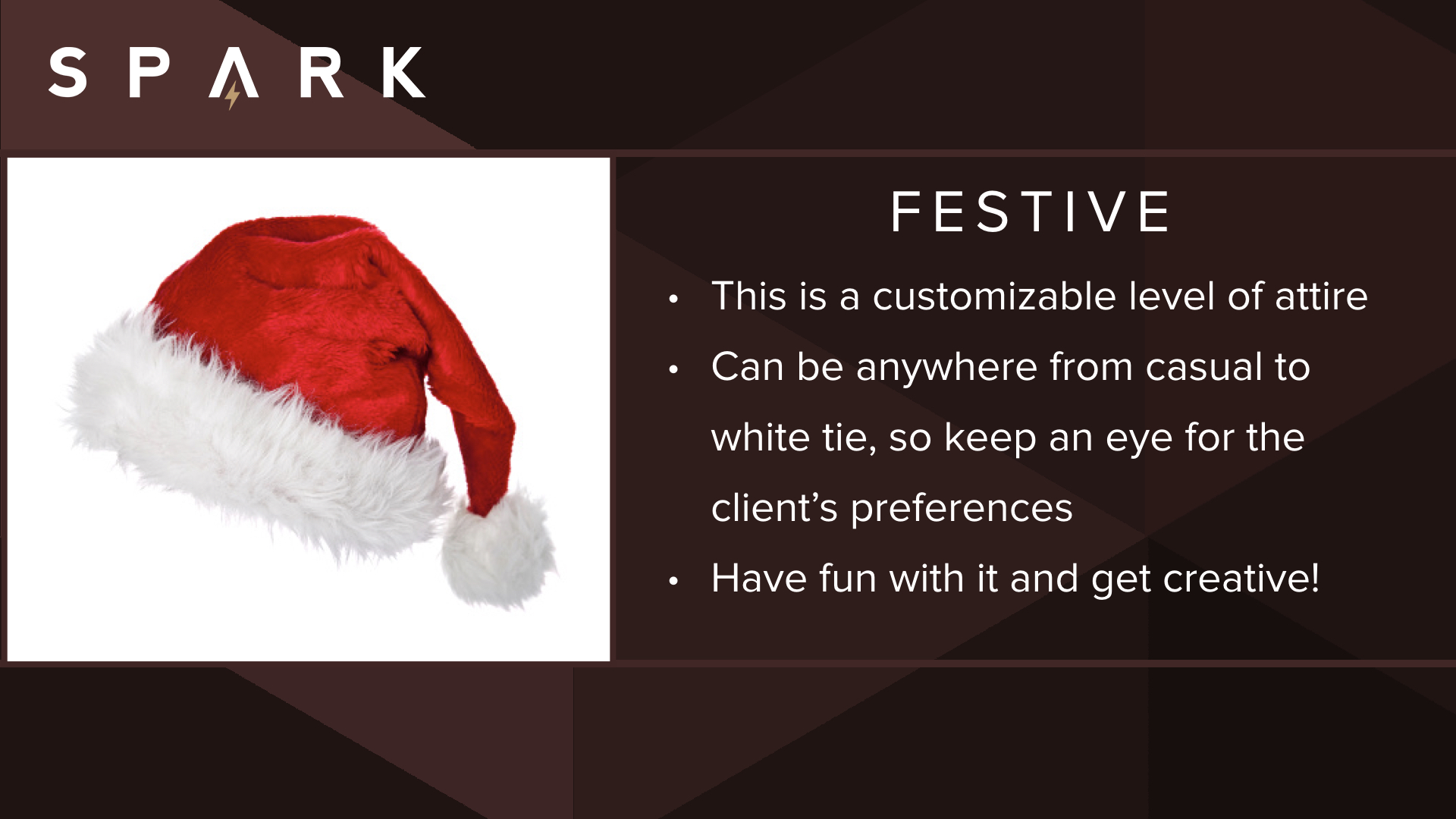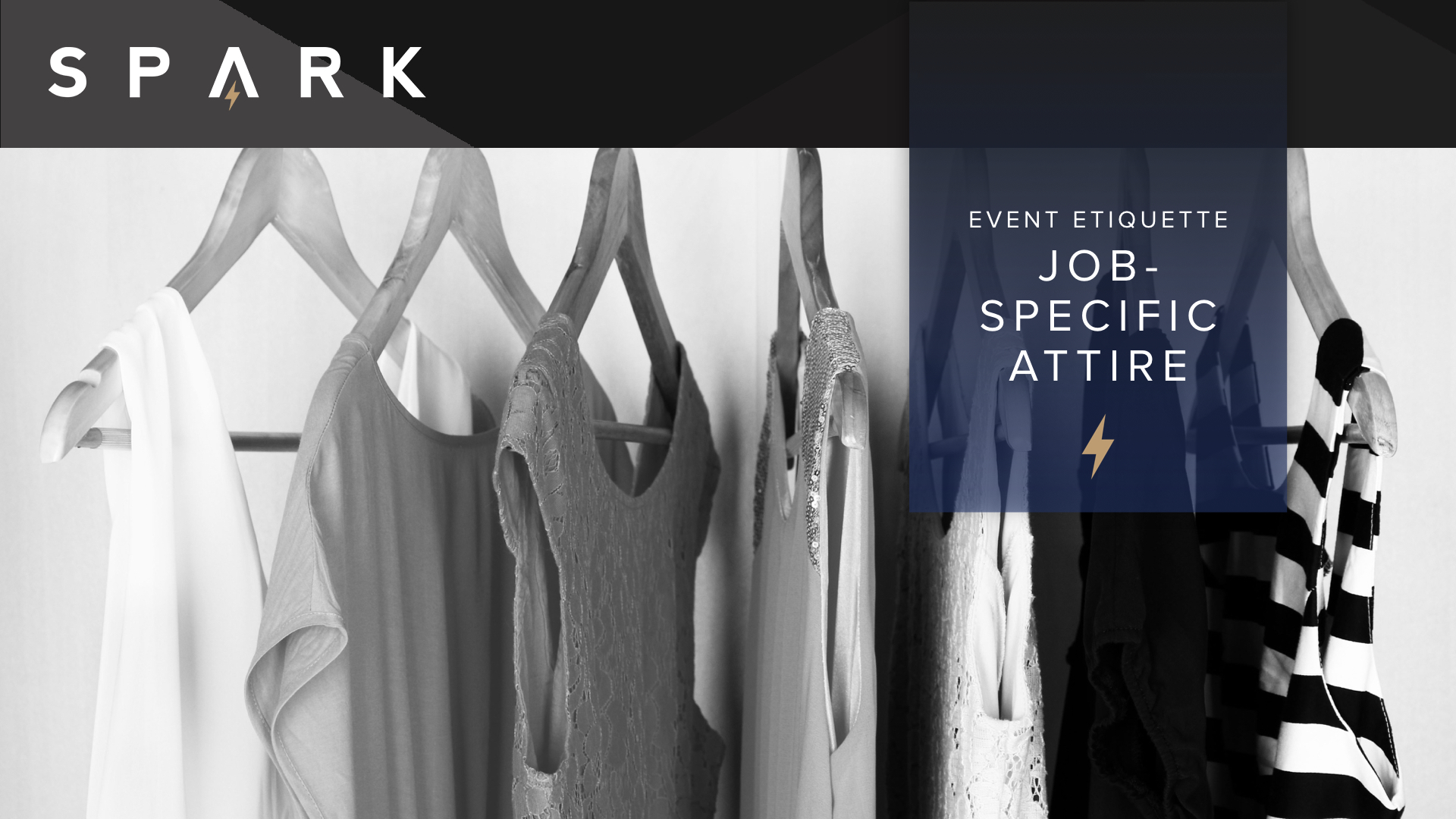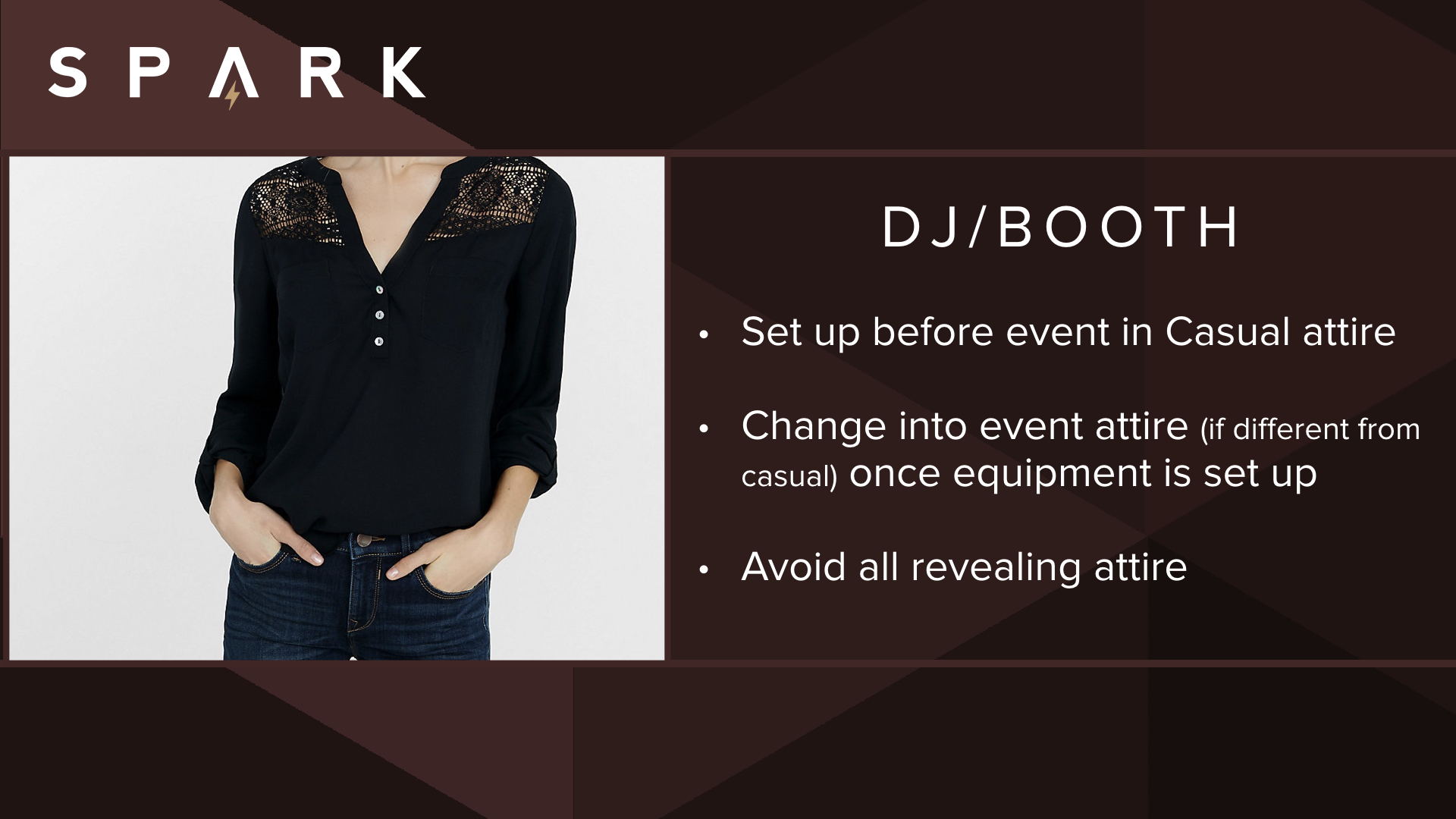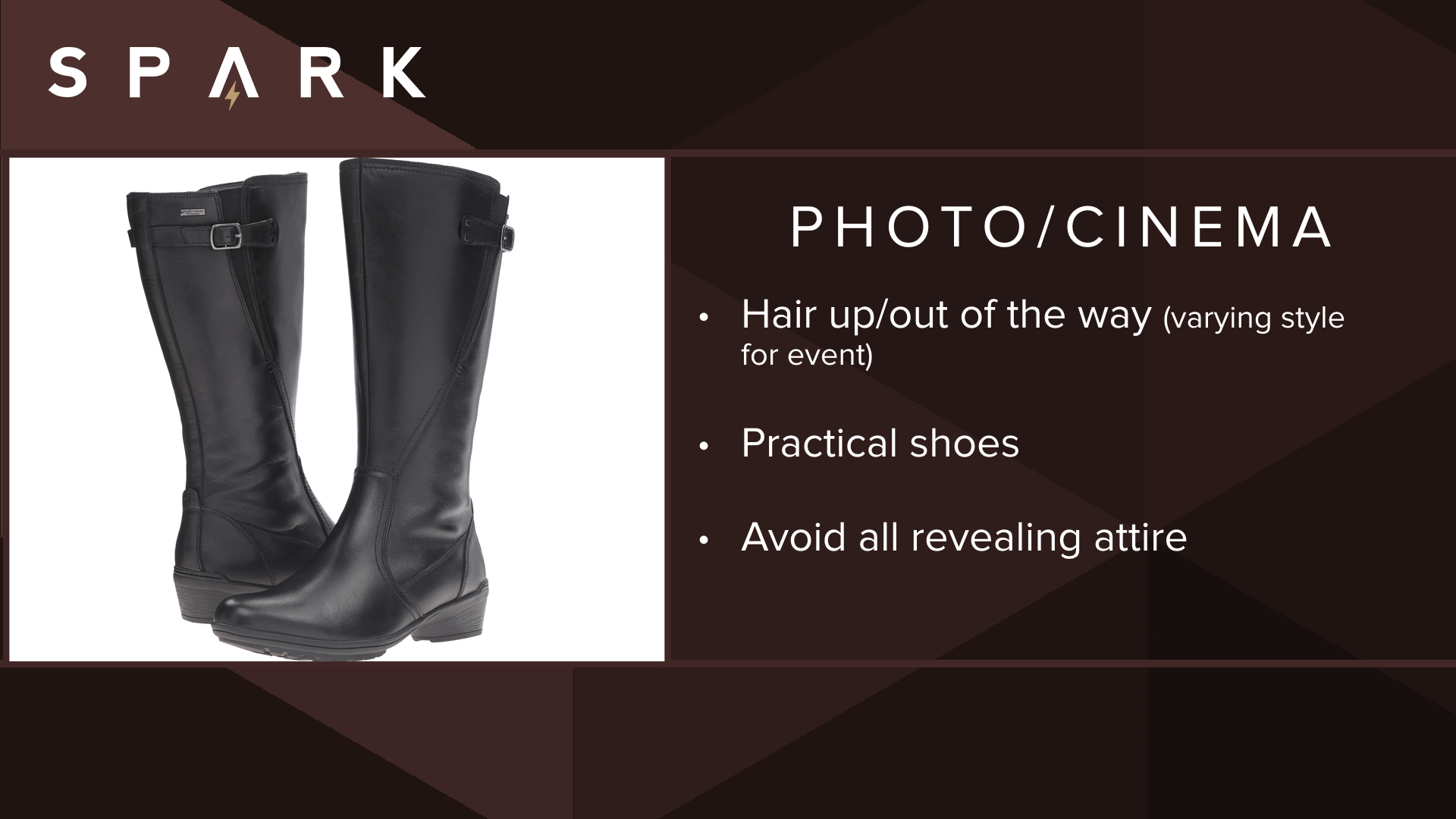 TROUBLESHOOTING AT YOUR EVENT
TALKING POINTS:
How to troubleshoot on the fly at your event
This video on troubleshooting will teach you the necessary skills and information needed to properly troubleshoot a system failure at your event. We try to prevent equipment malfunctions or other failures of any kind, but faults are inevitable so it's best to prepare for them properly.
QUIZ
When you're ready, take the quiz below and find out how well you know the information covered in this module